Respecting Biodiversity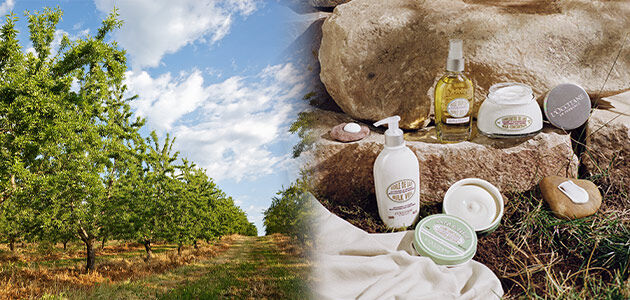 We are dedicated to defending and promoting the unique biodiversity of our lands, both cultivated and wild. Since 1976, L'OCCITANE has been protecting the richness of our lands and we are committed to defending biodiversity for the generations to come. Since our brand was born in Provence, this is where we've first started this challenge. We then extended our focus to the entire Mediterranean Basin as, not only is it close to home, but it's also one of the richest ecosystems in the world where there are major conservation issues at stake. Now we're going further, in Burkina Faso, and the rest of the world. By 2025, our aim is to have contributed to protecting 1,000 threatened species and varieties of plants. Now, we have helped protect 989 species.
Almond
Up until the 50s, the almond tree was a strong symbol of the Provençal landscape. But then almond cultivation was abandoned to make way for more profitable crops, and soon the tree had virtually disappeared from the region. We are committed to sourcing almonds from Provence in order to help bring back the traditional production of almonds. Our producer Jean-Pierre Jaubert has replanted over 22,000 almond trees with typical Provençal varieties of the Valensole region since 2002 and supports sustainable agricultural practices by only using organic and biological fertilisers to looking after the local biodiversity.
Immortelle
Following the success of our immortelle range, L'OCCITANE launched in 2004 the first 100% organic planting program of the flower in Corsica. As this wild plant had never been domesticated before, our sustainable sourcing makes sure we do not put pressure on the plant's natural environment. Man's intervention has come at no cost to the environment, and every plot of land is cultivated in the most natural way possible.
Lavender
Under threat from drought-like conditions and disease-carrying insects, lavender is in decline. Since 2012, L'OCCITANE has been supporting French research institutes in their efforts to find ecological solutions to save lavender, such as selecting new varieties of plants and using innovative cultivation techniques. To contribute to the local economy, we source all our lavender exclusively from cooperatives in the south of France.
Shea Butter
For over 30 years, L'OCCITANE has been sourcing shea butter – one of our most iconic ingredients – from women producers in Burkina Faso. We purchase their organic and fair-trade* certified shea butter directly from them. The RESIST (Resilience, Ecology, Strengthening, Independence, Structuration, Training) Programme launched in 2018, helps secure organic nut access by preserving the parks where shea trees grow naturally, and helps the women of Burkina Faso consolidate their shea butter supply chain.
Verbena
L'OCCITANE Verbena is formulated with the most pure and concentrated Organic Verbena extract from Provence grown on Ecocert-certified plots. Our producers have always used organic methods to grow Verbena and only used fertilisers made from organic ingredients to enrich the soil. Their small sustainable farm allows them to focus on the quality of their crops and care for their fields properly, weeding competitive grasses out by hand.
Aqua Réotier
When L'OCCITANE discovered the extraordinary water of the Réotier spring in the Hautes-Alpes region, we were keen to harness its skincare benefits, but also determined to protect the surrounding environment. Located at the gateway of a natural park, the Réotier spring has been recognized by the European Union as one of the Natura 2000 nature protection areas. It was essential for us to ensure we could use this spring's incredible water without any negative impact on water flow or the surrounding environment. That's why we never collect more than 0.04% of the annual volume of water discharged from the spring.
Cade
Our Cade ingredient is harvested from a plant that can only be found in the wild. That's why we decided to work with local partners to draw up a sustainable picking charter protecting the integrity and habitat of these plants. We work with local foresters who cut cade during normal bush clearing activity – which keeps paths clear for hikers and reduces the risk of fires. By distilling its essential oil we're valorising a product that would otherwise go to waste.
Since 1976, L'OCCITANE has been protecting the richness of our lands and we are committed to defending biodiversity for the generations to come. We give every plant, every flower and every herb the time they need to grow, and believe in sustainable agriculture.
We draw inspiration from the natural properties of plants to drive innovation. We work directly with over 130 French farmers and 10,000 pickers, ensuring that the ingredients we use are of the highest quality and sourced as sustainably as possible.